President for increasing enrolment in higher education
Updated Fri, 30 Nov 2012 03:36 PM IST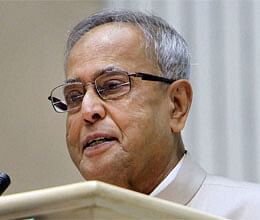 President Pranab Mukherjee today said the country should aim at achieving a gross enrolment ratio of 25 per cent in higher education by the end of the 12th Five-year Plan period from 18 per cent at present.
"The gross enrolment ratio in higher education must be targeted to increase from nearly 18 per cent at present to about 25 per cent by 2016-17, the terminal year of the 12th Plan," the President said at the Lakshmipat Singhania-IIM Lucknow National Leadership Awards function here.

Underlining the importance of providing quality education, he said the 12th Five-year Plan approach paper accordingly focusses on teacher training and evaluation and measures to enforce accountability.

It also stressed the need to build capacity in secondary schools to absorb the passouts from primary enrolments.Though quality of life has improved, the country, however, faces many challenges "as we march forward", the President said, adding there are several areas where economic growth is lagging behind and social parameters are much lower.

"For India''s economic and political stability it is important that we have inclusive growth, which benefits each and every individuals in the country, especially those who are at a base of social economic pyramid," he said.

The President said it was also necessary for the state to work in partnership with private sector to provide opportunity for education, skill enhancement and capacity building. There is also a special need to empower women who shall act as catalyst for change.

The Lakshmipat Singhania-IIM Lucknow National Leadership Awards were instituted in 2004 honouring people in the field of business, science and technology and community service and social uplift.

This year, recipients included Wipro founder Ajim Premji, Vineet Nayar of HCL and Prof Manmohan Sharma, a renowned figure in the world of chemical engineering.