IIM-Trichy to offer short term courses on management
Updated Thu, 22 Nov 2012 11:04 AM IST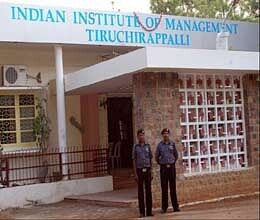 As part of encouraging students interested in taking up courses in management, the Indian Institute of Management, Tiruchirapalli, has planned to offer short term executive and certification programmes on management for working executives from its Chennai centre.
According to its Director Dr Prafulla Agnihotri, the new courses are proposed to begin from next academic year."We are also looking at offering short-term executive education in management development programmes and certificate programmes for working executives", he told reporters, after the formal inauguration of the Chennai Centre campus,here.

Compared to the full time programme, he said the short term courses targeted at the employed professionals would last about four days or few months.

Noting that the Chennai campus would be an extension of the IIM Tiruchirapalli, he said the first batch of three-year post graduate programme in Business management for working executives had commenced in August 29, 2012 with a strength of 28 students.

"It is one of our flagship programmes (offered in Tiruchirapalli campus)", he said to a query on why this course was being launched in Chennai.The Chennai facility, spread across 14,000 sq ft on a leased property, would have learning resource centre built at a cost of over Rs one crore, Wifi connectivity and a library.

The Chennai centre has two 60 seat classrooms, one 40 seat classroom, 25 seat classroom, eight faculty and administrative offices. Besides, an access to the Tiruchirappalli campus through VPN facility would also be provided to the students.

The facility would also be used for conducting placement-related activities for its two-year programme offered in Tiruchirapalli, he said.

For the second batch of admission on Post Graduate Programme in Business Management, he said it would be announced in March 2013 with an intake of 40 students.he Chennai centre was formally inaugurated by Additional Chief Secretary T S Sridhar.