Hooda to announce 16 projects for Jind
Updated Mon, 24 Dec 2012 10:08 AM IST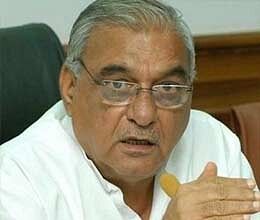 Haryana Chief Minister Bhupinder Singh Hooda will initiate 16 major projects costing Rs 168 crore in Jind district tomorrow, two Congress parliamentarians said today.
In a joint statement issued by Congress MPs Deepender Singh Hooda and Jitender Singh Malik, they said that these projects would give new dimensions to the development of the district.

Deepender said Hooda would lay the foundation stone of 16 new projects and inaugurate one completed project.

On June 3, the Chief Minister had laid the foundation stone of six mega projects costing Rs 1337.76 crore in Jind, he said.

Sonepat MP Jitender Singh Malik said the Chief Minister would inaugurate the recently constructed Poly Clinic Building at sector 8 in Jind tomorrow.

He will also lay the foundation stones of several projects including national level institute ''Haryana Institute of Education and Research'', additional building at General Hospital, GNM Nursing School building, expansion of Mini Secretariat beautification of ''Rani Talaab'', he said.
Top
© 2017-18 Amar Ujala Publications Ltd.
Your Story has been saved!