Fiat to bring the abarth hatchback to India
Updated Thu, 06 Dec 2012 03:23 PM IST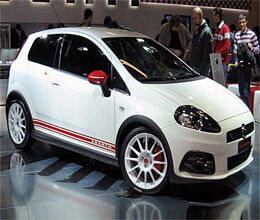 Roughly half a year ago, we shared with our readers information on Fiat's plans to introduce 2 jeep models by the year 2013. And now, we have further light to shed on the same plans; Fiat not only plans to introduce 2 models from the Jeep brand, its sister concern, but also plans on introducing the Fiat Abarth to India. While the evidence is not concrete, we have reason to believe that the Fiat Abarth in India will be based off the Fiat Grande Punto 1.4 Emotion.
The current Grande Punto, houses a 1.4-litre and 1.2-litre 4-cylinder petrol engine and also comes with the 1.3-litre diesel options. Now as far as the Fiat Abarth goes, for those not in the know, the Fiat Abarth line-up consists of rally car models and from what we can tell, Fiat plans on using the 1.4-litre turbo-charged petrol engine that is also housed in the Fiat Linea T-Jet. However, this should be an up-rated version of the same; possibly generating 152bhp. We will bring you more information on this as the story unfolds.

Now coming back to Fiat's sister concern, the Jeep Brand, we can say with some conviction that the plans for these vehicles is for the second half of 2013 and not before. These vehicles include two models namely; the Jeep Wrangler and Grand Cherokee. Stay tuned to CarDekho as we bring you further updates on Fiat India's plans for the future. Cheers!