AMU introduces biometric identification for admission seekers
Updated Fri, 30 Nov 2012 12:24 PM IST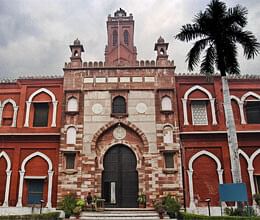 To check impersonation during admission process, the Aligarh Muslim University (AMU) has for the first time issued biometric smard cards for candidates.
A spokesman of the University today said cases of 10 aspirants in the faculty of engineering have been referred to a forensic laboratory for verification after discrepancies were found.
The University is using the new procedure based on biometric identity check for preventing  growing malpractice of impersonation in some admission tests for professional courses, especially in the faculties of medicine and engineering, he said.

The spokesman said that Zakir Husain College of Engineering and Technology, AMU has developed an electronic device through which each candidate was issued a biometric smart card using the applicant's thumb impression, signature and photograph at the time of filing of the application.

This data is then compared at the time of appearing in the test and finally at the time of completing the admission process.

Since the past few years there have been frequent reports of impersonation and the University authorities were compelled to introduce this innovative procedure for curbing this menace, he said.

The spokesman said that in the 10 cases, all pertaining to the engineering admission test, the photographs and thumb impressions of the candidates have not matched.Once the results are verified by the forensic test, legal action will be taken against the culprits, he said.


Top
© 2017-18 Amar Ujala Publications Ltd.
Your Story has been saved!